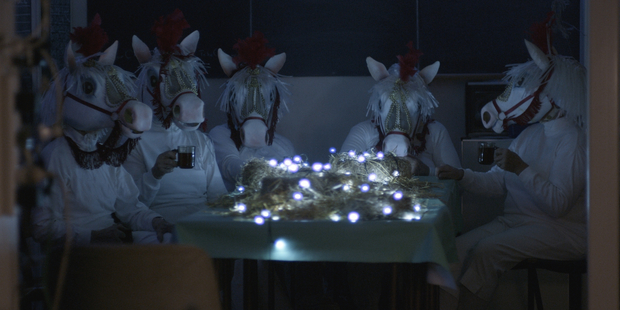 The magical kingdom that is Dannevirke's Fantasy Cave and the 100 volunteers who keep the fairy dust flying star in a new documentary.
Film-makers Matt Henley and Michelle Savill have released the documentary in conjunction with the Loading Docs Project and the short video has run as a prelude to the International Film Festival at Auckland's Civic Theatre this week.
With its theme of "why do people create?", the documentary is one of 10 short New Zealand films and for Henley returning to the Fantasy Cave was something he had wanted to do since his first visit when he was 9. 
"I've a lot of friends in Dannevirke and the cave has always intrigued me," Henley told the Dannevirke News. "The enthusiasm of the people who run it is great to see."
However, Henley admitted he and Savill had not spent too much time with people of the older generation who volunteer at the cave.
"We've only ever spent time with our grandparents and the amount of life in those at the Fantasy Cave …," he said.
"It was great hanging out with them.
"It's wonderful to experience the sense of community which exists in Dannevirke, but we don't see it so much here in Wellington."
Henley said his favourite Fantasy Cave experience was the giant mushrooms, but he appreciated all the work and creativity which has gone into the displays to make the cave our top tourist attraction for 25 years.
"It's a very special place," he said.
For the Cave Dweller volunteers, working with the two documentary makers was unique.
"They were great," Liz Edwards said. "It certainly has been an experience."
The documentary was also released on Tuesday on the Loading Docs website and although Mrs Edwards and her husband, Ces, the president of the Fantasy Cave, have viewed it, other volunteers haven't been so lucky.
"A lot of our Cave Dwellers don't have computers," Mrs Edwards said.
However, Henley has said he and Savill are intending to bring the film to Dannevirke in August, to show on a large screen to the volunteers.
For the volunteers who appear on the short film, happiness is in making stuff and the quirky documentary shares their joy in creating.
However, the name Fantasy Cave did lead to an interesting experience for one male visitor, who arrived thinking it was a brothel.
Meanwhile, the popularity of the Fantasy Cave is increasing with the last school holidays, the best in four years Mrs Edwards said.
"We averaged 100 visitors on each of the days we opened and on the last Saturday we had 174 visitors," she said. "We also had school holiday programme visitors through which seems to be a trend now, but unfortunately we missed out on 40 young visitors from the Manawatu when their bus driver turned around at Ashhurst, not prepared to risk young lives going through the gorge with its slips and at the time there was snow up on the Saddle Rd."